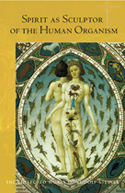 'Let us be courageous and not draw back in fear when realities of the world of spirit that play into human life are unveiled. You see, the future of humanity depends on us learning to live with the world of spirit in the same way that we live with the physical world here on earth.' – Rudolf Steiner
In a wide-ranging series of lectures, Rudolf Steiner demonstrates the integral nature of spirit and matter and their manifold connections. Speaking to audiences in London, Holland, Germany and Switzerland, Steiner explains how, through a process of evolving consciousness, humanity lost its knowledge and direct experience of the spiritual sources of existence, but now needs to reconnect with them. Spirit is the essence and power of life which, in Steiner's vivid image, 'strikes a match in our whole being' when we allow it to inform us fully.
Our world cannot be understood only in physical terms but is inseparable from the divine realities continually creating and sustaining it. Reconnecting with the spirit calls upon us to heal the fractures between everyday consciousness and the metaphysical realms in which we are already embedded. In Steiner's descriptions, there is no end to the numerous reconnections possible: between our past, present and future; between the active, individualizing principle of the 'I' and the physical human body it works upon and shapes; between our physical actions and limb movements in one life and the forming or sculpting of our head in a future one; and above all, between the moral actions and insights we develop whilst alive on earth and our developing 'eye' for spiritual reality in the life after death, with all that this can mean for the future of human evolution.
Taking a truly holistic approach, Rudolf Steiner tackles an eclectic series of subjects throughout these sixteen lectures – all united by the common theme of rediscovering how spirit pervades life. Apart from a focus on education in several lectures, he discusses: experiences during sleep; the human spirit and soul between death and a new birth; how spirit 'sculpts' the human organism; Christ from the perspective of anthroposophy; the battle for human nature between luciferic and ahrimanic beings; karma and the creation of conditions for our return to a new life on earth; human experience of the etheric cosmos; and the human being's faculties of hearing, speaking, singing, walking, and thinking. Together, these lectures offer a cornucopia of spiritual insights and wisdom for the present day.
24 November 2014; Trans. M. Barton (16 lectures, various cities, 1922, CW 218); RSP; 312pp; 23.5 x 15.5 cm; pb;
£20.00 ISBN 9781855844087