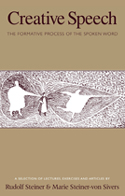 In this seminal work on a new art of speech, Rudolf and Marie Steiner demonstrate how the Word can truly be brought to life. From the authors' perspective, the audible sound of speech is only the end result of a much greater process that begins inwardly. In contrast to the belief that speaking is entirely a matter of correct placement in the mouth, Rudolf Steiner advises speakers to concentrate on what takes place before the mechanical production of sound is made in the physical organism.
Relevant to actors, teachers, therapists and anybody seeking to reinvigorate the art of the Word, this book will be an invaluable friend and guide to improving clarity and restoring beauty to communication.
RUDOLF STEINER (1861-1925) called his spiritual philosophy 'anthroposophy', meaning 'wisdom of the human being'. As a highly developed seer, he based his work on direct knowledge and perception of spiritual dimensions. He initiated a modern and universal 'science of spirit', accessible to anyone willing to exercise clear and unprejudiced thinking.
From his spiritual investigations Steiner provided suggestions for the renewal of many activities, including education (both general and special), agriculture, medicine, economics, architecture, science, philosophy, religion and the arts. Today there are thousands of schools, clinics, farms and other organizations involved in practical work based on his principles. His many published works feature his research into the spiritual nature of the human being, the evolution of the world and humanity, and methods of personal development. Steiner wrote some 30 books and delivered over 6000 lectures across Europe. In 1924 he founded the General Anthroposophical Society, which today has branches throughout the world.
MARIE STEINER-VON SIVERS (1867-1948) was the second wife of Rudolf Steiner and one of his closest colleagues. She made a major contribution to the development of anthroposophy, particularly in her work on the renewal of the performing arts (eurythmy, speech and drama), and the editing and publishing of Rudolf Steiner's literary estate.