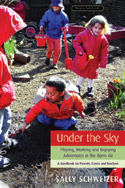 'An uplifting philosophy on childhood and life, and an absolute treasure trove of information for anyone who believes nature and childhood are perfect companions. Sally Schweizer manages to combine magic with common sense in this wonderful book, which is authentic from cover to cover. What she writes with such lively enthusiasm, she has also lived.' - Sally Jenkinson, author of The Genius of Play
We are always hearing how our children's cultural landscape is plagued by inactivity, obesity, violent computer games and obsessive TV-viewing. But it doesn't have to be like that. Sally Schweizer presents a world of possibilities for children in urban or rural areas, throwing open the doors to the great experience of life in the open air. Packed with anecdotes, games and practical activities, Under the Sky is a vibrant resource for parents, teachers and carers.
So what can you do outside? Well, how about singing, whittling sticks, chatting, climbing, digging and making dens? You can build, run, watch small creatures, count tree rings, listen to stories, perform puppet plays, learn woodwork, or investigate the many forms of bark. In the outdoors you can enjoy quiet conversations or make a big noise, be alone or be with others. And that's just for starters...
Under the Sky is an invaluable guide for anyone wishing to cultivate children's play and imagination. It features ideas for planning expeditions and adventures, for toys and equipment, and activities for all four seasons and all four elements! It includes plans, tips and advice on child-friendly outdoor design, materials, surfaces, seating, gardening, pets, wildlife - even campfires, picnics and train journeys... Under the Sky also contains a chapter showing how educators can work towards formal 'Early Years' government goals.
SALLY SCHWEIZER has worked for nearly 40 years as an educator of children and adults. She has a passionate and active interest in music, languages, gardening, handwork and the environment. Married to Christian and mother of four adult children, Sally has an abiding love for the treasures of childhood. She is the author of Well, I Wonder, Childhood in the Modern World.