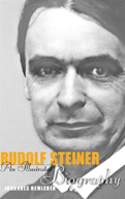 Rudolf Steiner's legacy is remarkable. Around the world, thousands of initiatives have been built up around his inspiration and thought, including Steiner Waldorf schools, special education establishments, medical clinics, biodynamic farms, cultural centres, and much more. At the core of this outer work stands the scientific and spiritual path which Steiner called anthroposophy - a philosophy and method which he expounded and developed throughout his life.
Hemleben's concise yet informative biography throws a clear light on Steiner's life and his numerous struggles and achievements. Beginning with Steiner's childhood, Hemleben guides us through his youthful years as a respected Goethean scholar and philosopher in Weimar; his work in the Theosophical Society and the later establishing of the Anthroposophical Society; the development of anthroposophy as a spiritual science; the creation of spiritual initiatives in art, the social sciences, education, medicine, agriculture, religion and architecture; the important Christmas Foundation Conference, and his eventual death in 1925.
Hemleben's biography - seen by many as the finest account of Steiner's life and work - includes a chronology, personal tributes, an extensive section for further reading, as well as an index. It is also profusely illustrated, with 69 pictures and photographs.