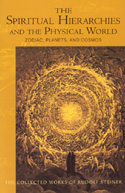 In these remarkable lectures, Rudolf Steiner re-establishes the human being as a participant in an evolving, dynamic universe of living spiritual beings: a living universe, whole and divine. He does so in concrete images, capable of being grasped by human consciousness as if from within.
How is this possible? Implicit in Rudolf Steiner's view is the fact that, essentially, the universe consists of consciousness. Everything else is illusion. Hence, to understand the evolution of the cosmos and humanity in any terms other than consciousness is also an illusion. Whenever we are dealing with grand cosmic facts, we are dealing with states of consciousness. But states of consciousness never exist apart from the beings who embody them. Therefore, the only true realities are beings in various states of consciousness. In this sense, Steiner's spiritual science is a science of states of consciousness and the beings who embody them.
Indeed, any science - physics, chemistry, botany, psychology - is a science of beings. And the sensory perception, or physical trace, is simply the outer vestment of the activity of beings in various states of consciousness. To describe these beings, Steiner uses the names made familiar by the wisdom traditions of the West.